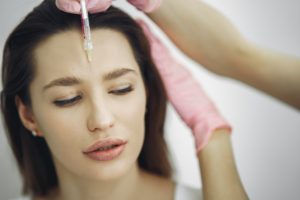 BOTOX and dermal fillers rank amongst the most popular elective services and for good reasons. They are a nonsurgical solution to reverse the signs of aging. While you might think you must see a physician or plastic surgeon to benefit from them, you can also visit your dentist. Although they primarily focus on your dental health, here are a few advantages of choosing a dentist for dermal fillers and BOTOX.
BOTOX VS Dermal Fillers
Although BOTOX and fillers can be used to treat facial signs of aging, like wrinkles and crevasses, they are different treatments. BOTOX is injected with a needle into specific muscles. It temporarily paralyzes the muscles to reduce the appearance of fine lines and wrinkles.
Dermal fillers differ because they add volume to specific areas of the face. They fill in spots that have lost collagen and elasticity to make your face smoother and fuller. Fillers are recommended for deep wrinkles and crevasses, like those around the mouth.
Benefits of Choosing a Dentist for Cosmetic Injections
Although many healthcare locations, spas, and other cosmetic centers offer fillers and BOTOX, they don't have the experience of a dentist. Dentists have extensive knowledge of the craniofacial structures, including the muscles. They can perform the treatments more efficiently and with less discomfort.
Besides aesthetic advantages, BOTOX is also approved to treat various medical conditions, like bruxism, migraines, and TMJ disorders. A dentist's unique understanding of oral and facial muscles allows them to provide more accurate and effective results. You'll benefit from lasting improvement using a safe, effective solution.
Turn Back the Clock with Cosmetic Injections
If you're ready to look younger by treating fine lines, wrinkles, or sagging skin, you may be a candidate for cosmetic injections. Your dentist will learn more about your concerns, health history, and goals to determine which option is right for you.
You can look and feel your best by visiting your dentist for fillers or BOTOX. They'll reveal a youthful appearance while keeping your teeth and gums healthy.
About Dr. Julie A. Cromer
Dr. Cromer earned her dental degree from the West Virginia University School of Dentistry and has regularly continued her education to provide the latest treatments, like dermal fillers. Dr. Cromer is a proud member of various professional organizations, including the American Dental Association. Request an appointment through his website or call (772) 227-1303.